Please review some of our most asked questions. I look forward to building relationships with each of my clients while watching them move more often, & with less pain to meet their goals–whether its to establish & improve daily living skill needs, running a 50K or carrying baby + carseat + diaper bag without pain!
Frequently Asked Questions
Do you take insurance?
---
I am no longer directly billing insurance companies but am happy to provide a SuperBill, as well as supporting clinical documentation for both in-clinic and in-home rehabilitation visits. I am considered an 'out of network provider' so you can find out your reimbursement options by following this worksheet. I am a Medicare Provider and a registered out of network Tricare Provider. Insurance Reimbursement Worksheet Sliding Fee Scale cases: at this time I am not accepting these cases but I do once a year and will update on social media when I am accepting applications for those slots.
---
Do I need a referral from my health care provider to see you?
---
In the state of California, OTs do not need a referral to treat patients. We are not limited by 45 days or 10 visits as are physical therapists under 'Direct Access'. However, some insurances require the referral to reimburse for the services. To find out about your own insurance's plan-specific coverage for out of network reimbursement, you would need to follow the insurance worksheet: Insurance Reimbursement Worksheet If you're being seen with a focusing on improving your physical fitness, movement assessment & injury prevention (running, cycling, overall health & wellness goals), you do not need a referral as there is not typically any aim for insurance reimbursement & we are not treating a specific diagnosis or condition.
---
I can't find a time that works for me to be seen
---
Please message me and let me know what your ideal timing options are and I will try to see if I can make something fit.
---
If I'm seeing you in my home or at the clinic, can my children be present?
---
Yes, infants are easy to incorporate into our session and we can pause as needed for nursing etc. It's better that you're getting some time to address your needs than to not have any time at all. Please be aware that I do have home visits as an option as well which can reduce your travel time and disruption of naps, etc. It also often helps infants and toddlers relax as they are in a familiar environment and seem to fret less about mom being distracted than in the clinic environment. Toddlers can be more challenging for your own focus, but I'd rather you make it to an appointment or we modify around them than you not have the chance to start to reach your goals. PreSchool and older are generally interested in doing exercises with us which is fine—but you might not want them present for your initial eval due to possibility of an internal examination pending your needs (if being seen fro pelvic health/women's health).
---
How do you assess what the pelvic floor muscles are doing?
---
To assess what the pelvic floor muscles are doing, we can use both digital evaluation as well as real-time ultrasound imaging. Pelvic health PTs and OTs use internal digital muscle testing to assess the quality of the contraction of the pelvic floor muscles as well as their tension at rest and movement based testing for assessing if there are any other types of prolapse or scarring that may be impacting your body's ability to work in a functional range. I will not do an internal pelvic floor assessment without a medical provider consent either prior to the 6 week post-birth check up or during pregnancy without signed provider consent; and it is not always necessary for all pelvic health issues. With the additional of real time ultrasound to my clinical practice, I have the advantage of being able to greater assess without internal testing when indicated. We are also able to start earlier than the 6 weeks post-birth time if you choose to do so and that tool really helps to have a better assessment of what direction you're going at that point.
---
"My wrist & shoulder have also been bugging me? Can you treat that while you're seeing me too?"
---
In general, yes. There are certain areas of rehabilitation (vestibular, cervical spine conditions, etc) that I am not qualified to treat directly & would refer you to another therapist with experience in that area. I have worked in this region since 2005 so I feel thankful to have many wonderful relationships with both other rehabilitation professionals as well as specialties in OB/GYN, Uro-Gynecology, pain medicine, chiropractic and counseling services as a few examples.
---
What do I need to bring to a blocked milk duct appointment?
---
Please arrive to the appointment knowing that you will need to either feed your baby/babies, or use a pump in between applications of therapeutic ultrasound.
---
How do I make an appointment to work with you?
---
Please use the link on the Appointments page to reach out to me through my
secure portal. This is where you are able to schedule, fill out electronic intake forms, and we
will have secure messaging. Due to the mobility of my practice (drive time) and varied needs of fitness and rehabilitation, I am not currently allowing client self-scheduling on an online
calendar. Hence, we will coordinate the initial evaluation & treatment as well as any follow ups in that portal or by phone call. I am happy to call you, but to book the appointment & fill out forms, you would still need to be registered in that portal. It is advised that 3-4 follow ups are booked after the initial evaluation, because it can sometimes be challenging to find available appointments if we wait until the week ahead.
---
How do I get reimbursed for my rehabilitation?
---
Pondera Rehabilitation & Fitness provides a service called "Reimbursify;" they will do the
necessary work for any additional forms & submissions to your insurance company so that you may receive reimbursement according to your plan's benefits. There are two main ways to access Reimbursify, either through their free downloadable app, or
through this web-based link below called File Fast.
Download Reimbursify App
---
I have worked with a personal trainer who said they were certified to help with pre/post-natal clients. But I am not sure why they want me to see you now? What is the difference between a licensed clinician doing rehabilitation, and a personal trainer who has taken classes or who has a certification in pregnancy and post-natal?
---
This is a great question! I am so thankful to have worked with more and more personal trainers who are receiving continuing education to learn about some of the issues related to pregnancy and how they might impact fitness and health. They are additional members of an interdisciplinary team that I am often grateful to work with. Like many professions, there is highvariability in training program and experience levels so in general terms, trainers focus on exercises with fitness goals. They cannot evaluate or diagnose for conditions such as a rotator cuff tears, ulnar nerve impingement, pelvic floor muscle exam or lumbo-pelvic pain. This is really the primary difference. If the evaluation isn't well-informed, then the approach to goal attainment is likely going to fail. Knowing what to look & when to refer out are both essential to success. As a general experience level, a trainer would not be able to help with motor coordination
retraining to address HOW you are doing exercises. They would not be able to treat you for a medical condition. Also, generally they do not coordinate with other providers who would potentially be helpful for your care, such as pessary needs during load, referrals for various research based types of injections (ie, PRP, steroids, interventional pain medicine) and following post-procedural protocols. If you have someone you already like to work with, it does not have to mean that you don't do that fitness aspect any more. The main idea is to get you back to whatever it is you WANT to be doing. We can both work to support you with the best challenges for your improving status.
It is common that some healthcare clinicians do not have a strong fitness or training
background. That is not the case for me. I do truly bridge the gap between fitness and
rehabilitation with both formal training, informal training and actual experience level. I have
been involved in training, coaching and education for other fitness and healthcare personnel for many years. I am comfortable designing a cross training or weight lifting and conditioning program for a parent who wants to just go to the park & play with their kids without pain, a retiree who wants to travel in their RV smoothly, a fitness fanatic reaching for goals in various workout classes, as well as high level professional teams (firefighters, collegiate cyclists, elite runners, etc).
---
What is the difference between occupational therapy for pelvic health and physical therapy for pelvic health?
---
In short, there is not a difference. The code for evaluations for submission to your insurance for reimbursement is different for each license, but all of the other possible 10+ treatment codes are the same between the two licenses. In terms of what goals are being addressed or what treatment approaches, the diagnoses we are addressing and symptoms we are treating...this is all the same in this arena. In some other areas of rehabilitation, there are more significant differences between OT & PT for goals and what they are within their scope to address. But in pelvic health, that is not generally the case. Differences between providers most often has much more to do with training background, varied experiences and exposure to a range of conditions, populations and treatment tools/approaches. Amy has over 15 years of working in the realm of pelvic health; and 3 years prior to that in both adult & pediatrics, including trauma, burns, orthopedics & neurological diagnoses. For Medicare patients, the initial threshold amounts are separate between OT & PT so you
have "extra" basically if you see OT for one thing
---
What are your rates for services?
---
In general, my rate is $150/hour, and in some cases there is a travel fee of $15/each way. I see patients for an initial 2-hour-long evaluation and treatment session, then follow-ups range from 60 minutes to 90 minutes depending on client need (i.e., frequency of availability schedule, goal driven issues, and various other factors). There are no additional costs associated for use of imaging ultrasound, documentation or Superbills.
---
I'm do not use a computer very often. Is there a way to show me how to complete these online intake forms?
---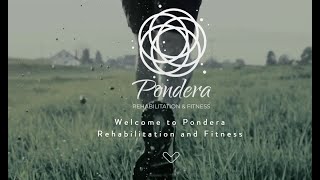 Our Best reccomendation is to Use Your Phone and access the camera to take pics and load images. Thru the app. FIrst Login: to login you will need to create an account... to do this begin login by clicking dont have an account. Enter the information asked for and submit. You will recieve an email with login credentials. Click on the client portal, enter the information in the email. You now have access to Your Pondera Rehab Client Portal. This basic video shows you how to login, insert credit card info, how to upload a document, as well as how to send messages... You can upload documents on the message page. You can update your info using the buttons in the top right. You can get to your content by clicking on the options on the left vertical bar. Please email amy@ponderarehab.com with any inquiries.
---
---